Paintless Dent Removal
Expert Car Dent Repair
What is Paintless Dent Removal (PDR)?
Paintless dent removal (PDR) is a technique used to remove dents from cars and vans without the need for expensive painting. Use of specialist tools mean that we can remove minor car body dents from your car door, wing, body panels, roof or bonnet.
Customers usually bring their car to me for paintless dent removal - click here for our address and to get directions (appointments only). Dent removal normally takes less than an hour, call me with a description of the dent and I'll let you know if it can be removed.
SEND PICTURES / VIDEO FOR A DENT REPAIR QUOTE
Why Use Gary the Dent Man?

25 Years in Car Dent Repair

Dent Removal from only £40

Based in Woodford, Stockport

Best Dent Man in the Northwest

Fix Minor Dents Car Body Repairs

Dent Removal on Cars and Vans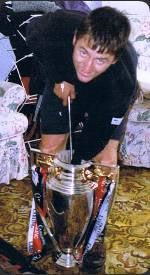 Unusual Job!
During my time in the paintless dent repair business I had the privilege of removing a large dent from the FA Premiership Trophy.
How it got the dent is a mystery but I was able to remove the it leaving the trophy in pristine condition for all the future winners!
Cusomer Feedback
"Yer a wizard, Gary!" Mark Davies Audi TT Driver "For some time now I've been carrying a car park dent on my driver's door. It was a short vertical dent, right through the crease on the door, just an inch or two behind the wing mirror. I've had it looked at by a couple of dent removers but all of them said it couldn't be pulled and my only option was to have it knocked in, filled and the door painted. That was until someone put me in touch with Gary. I spoke to him on the phone and told him my problem and he said he'd be able to do it. I took it down to him today and he worked his magic! Half an hour later and there's not a trace of my dent. Gary wasn't entirely happy that it was a perfect finish but I'll be b*ggered if I can see any sign of a blemish! I'm quite happy to say that without a doubt Gary gives the best dent removal service in the Northwest - a real craftsman. And not expensive - £40 for my dent."
For more info call me on 07974 439 492 or Email Me A Picture